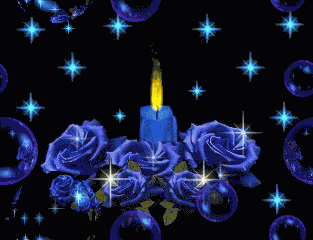 This blue candle is for all the children out there who have endured the tragic afflictions of sexual abuse, including your own inner child.
The bubbles represent the children, how fragile they are and for them to be free from all abuse.
The stars represent the children who have sadly and tragically died from abuse.
The roses represents the pure and innocent love that adults should have for children, that there are still good people in this world.
Blue or Opal stands for innocence, and these babies have had their innocence stolen and shattered right before them!
The black background is for the final release of negativity that took hold of these children.
I am literally crying right now, please read my last few blogs.
I am crying for those children! I am crying for those officers of law who have had to endure the sickness of these tragedies and find these abused children, most of whom are still in danger and they don't know who or where they are.
I cry for their shame, I cry for their abuse, I am heart broken, sick and saddened.
It is so easy to be mad at the perpetrators right now and I want them exposed no matter how ugly it is, I want them caught and locked away forever!
However, this moment is for those children who endured all kid's of abuse for years in child porn rings and other.
Please just take this moment right now and light a candle, say a prayer, leave a comment, make a bulletin, and spread the word.
We are adults who care, we have a voice to speak up and speak up now. Let your voice be heard here and now! We will not let this go unheard, this flame will never go out!
http://imposteralert. blogspot. com/2008/03/indictment-james-freeman-told-users-he. html
http://www. news. com. au/heraldsun/story/0,21985,23339978-662,00. html
http://www. stuff. co. nz/stuff/4428610a11. html